Interactive Online Courses to Boost Your Business
Train your employees with
3 unique learning formats
Scroll down
Train employees effectively using our unique formats:
Engage, Study and Apply into Practice
Sales Training
155 interactive training tools for sales reps and call center agents
Cold Calling
Simulator
Sales reps listen to dozens of pre-recorded sales conversations and choose the best ways to pass the gatekeeper, to handle objections, and to close the sale.
When they meet an angry customer or hear the "call me later" objection in real situations, they are now prepared to react professionally and will remember what to say even in the toughest conversation.
Video Role-play Tool
to Rehearse
Practice makes perfect. Record a series of videos with typical customer questions.
Then analyze the sales reps' video answers and provide feedback. Role-playing allows the student to train in a safe environment until the needed negotiating skills become second-nature and the rep is ready to face the customer.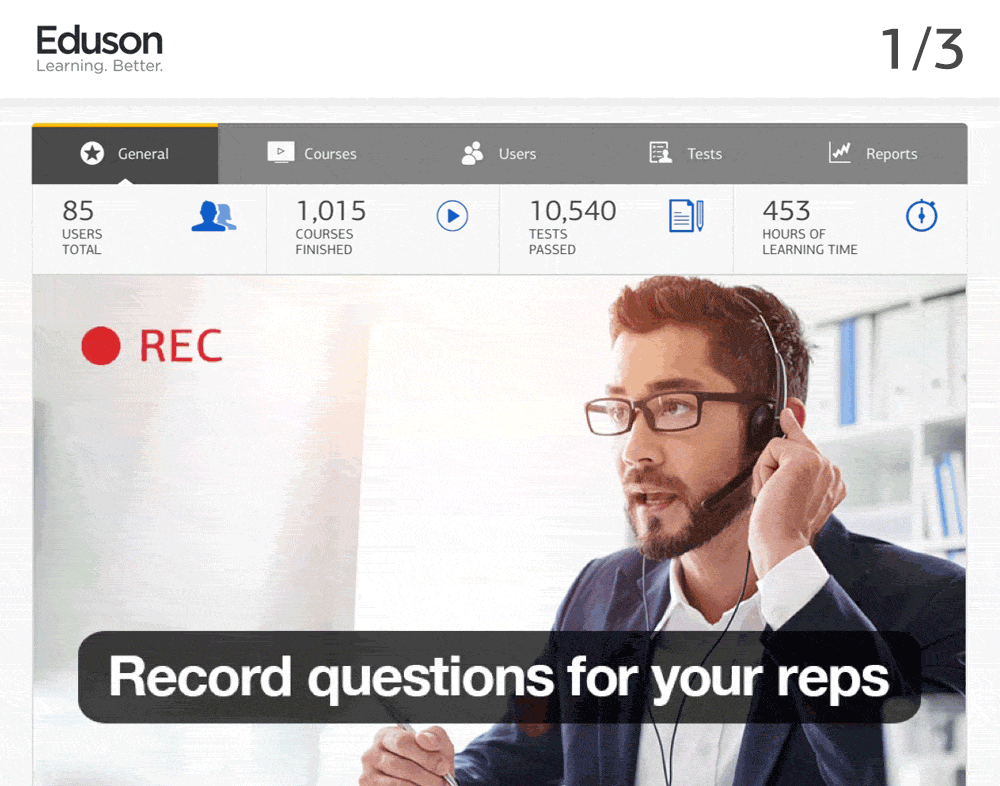 Speech Recognition
Training Tool
Most sales reps suffer from "sales amnesia".
Tell them something on Monday, and they forget it by Friday. It is curable now. Our training courses make salespeople repeat each phrase aloud a dozen times while training, again and again, until they get it word-perfect.
Eduson's speech recognition technology won't accept incorrect answers.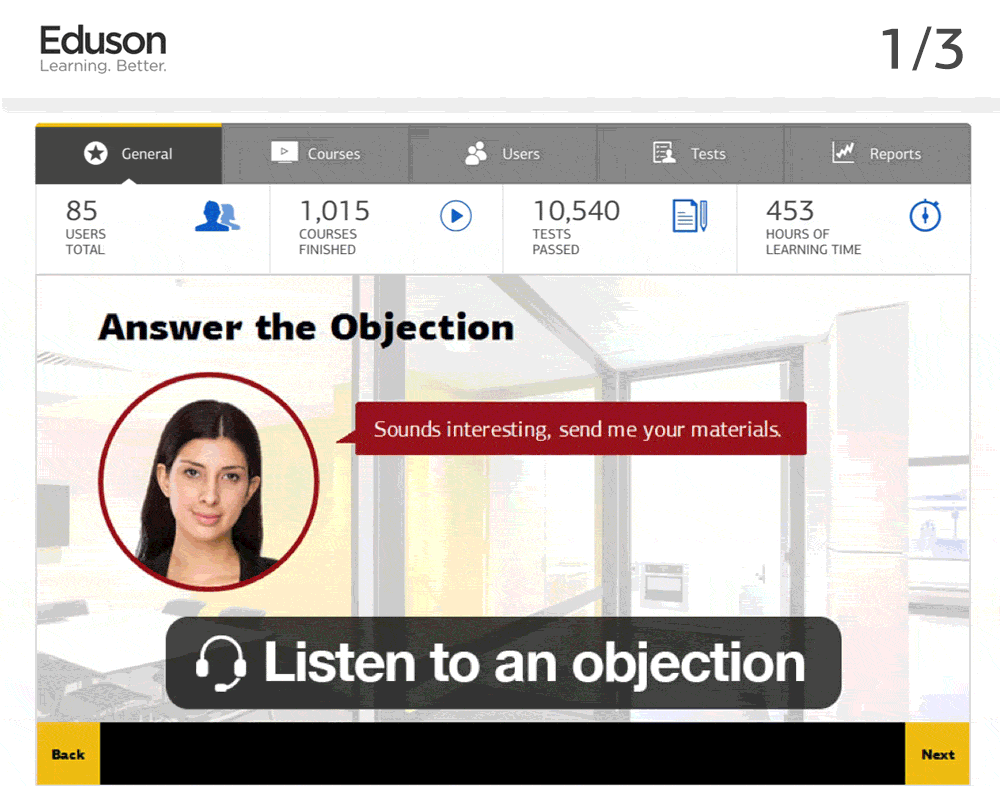 VR Trainings
Immersive 360° Sales Training Courses
Course Library
Various training formats that cover all critical business areas
550 Online Courses
Our catalogue has 550 online courses in 6 modern formats on topics ranging from negotiations and Microsoft Office to management tips and customer service.
Act — Don't Just Read
Our courses require decision-making and action. "Shall I answer this Skype call?" "How do I reply to this email?" Practice in a safe environment.
Modern Business Courses
We've reached an 86% course completion rate because learning with Eduson in engaging. You solve real-life problems, talk to customers, and fail like in a game if you've taken the wrong course of action.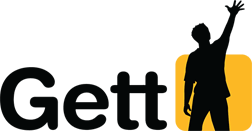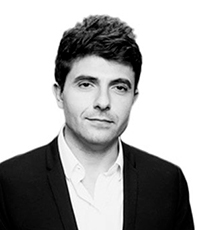 Training a global team is a challenge. Our marketing and sales specialists work in New York, London, Moscow, and Tel-Aviv.
Eduson offers a modern and efficient approach to employee training. The stories from successful entrepreneurs motivate the team, while the sales techniques from the best coaches increase efficiency.
High-quality courses and a convenient interface have radically changed our employees' opinion about online learning.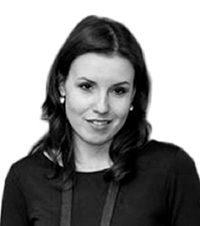 In Eduson courses, complex concepts are explained in a lively, interesting way that closely reflects business realities.
High quality courses and a convenient interface have radically improved our employees' course completion ratio.